3rd Safety In Spine Summit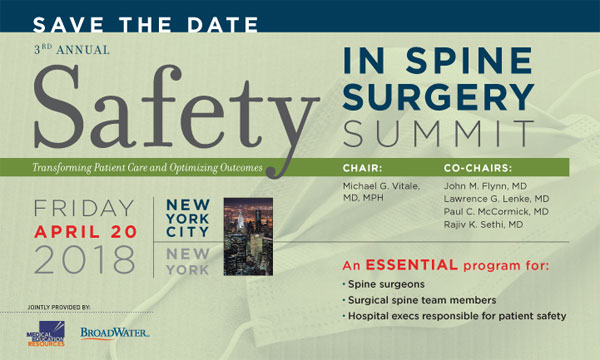 Friday, April 20, 2018
Chair: Michael G. Vitale, MD, MPH
Co-chairs:
John M. Flynn, MD
Lawrence G. Lenke, MD
Paul C. McCormick, MD
Rajiv K. Sethi, MD
---
Registration for the 3rd Spine Safety Summit is now live!
---
An ESSENTIAL program for:
Spine surgeons
Surgical spine team members
Hospital execs responsible for patient safety
The program sessions will be framed by two questions: When and How Will the Next Patient Be Harmed? What are You Willing to Do to Avoid This?
Program:
Part I: "Towards New Rules of Engagement for an Increasingly Complex Spine World"
Session 1 Optimizing Self for Patient Safety:
Session 2: Optimizing (or Firing) Your "Host" Before Surgery
Session 3: Judgement and Planning: Measure Twice, Cut Once
Session 4: Optimizing Execution through Evidence and Standardization
Part II: How the Wisdom of the Crowd, Dedicated Teams, and Standard Work Make Care Better
Session 5: Importance of (and Challenges Developing) Teams
Session 6: Free Papers/Abstracts
Session 7: Building Culture
Session 8: Key Note Speaker: Stanley McChrystal
Part III: The Macroeconomic Picture:
Session 9: The Value of Spine Study Groups and Registries
Session 10: Value in Spine Care
Session 11: Panel on Value