Harvard Business Review Article: How One Health System Combines Telemedicine and Hands-on Care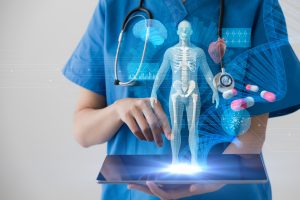 By Rajiv K. Sethi, Aditya V. Karhade, Michael G. Glenn and Gary S. Kaplan—
Until the Covid-19 pandemic struck, surgical patients in the U.S. had been increasingly traveling to designated Centers of Excellence, health systems that met stringent criteria for providing exceptional, high-value care for specific procedures such as knee replacement and spinal surgery. In some cases, large employers such as Walmart entered into contracts with the COE providers to care for their employees, whose travel to the specified provider for evaluation and, if needed, surgery, would be fully covered. In other cases, patients would travel from afar using other coverage to receive this specialized care.
Our institution, Virginia Mason, along with others including Geisinger, the Mayo Clinic, and Johns Hopkins are designated Centers of Excellence. Among the services patients have traveled to us for are complex spine surgeries, one of the most challenging procedures.
By shutting down most travel, the pandemic might have put an end to such programs, at least for the duration. But at Virginia Mason, prior investments in telemedicine technology for virtual patient encounters and virtual multidisciplinary perioperative clinical-team conferences have allowed us to continue providing surgery and other spine care to both local and remote patients traveling from hundreds or thousands of miles away, as well as to enhance virtual patient care broadly.
The Spine Team Approach
Based in Seattle, we were among the first organizations to confront the Covid-19 pandemic and, as such, had no blueprint to guide our response. Regulatory guidelines were constantly evolving and there were widespread shortages of personal protective equipment (PPE). Travel restrictions were keeping patients from many states away from Seattle and, fearing infection with the novel virus, local patients were deferring needed care. A ban on elective procedures resulted in precipitous and profound decreases in clinical care revenue and financial pressures were intensifying.
The pandemic forced us to quickly respond to novel clinical challenges, but we also needed to develop new ways to coordinate our sophisticated care teams and to safely engage with patients, including those traveling to Virginia Mason for complex spine surgery.
Like many leading organizations, Virginia Mason emphasizes a multidisciplinary approach to value-based care, which focuses on improving outcomes while reducing costs. The "Seattle Spine Team Approach" is a fully developed example of such comprehensive and condition-specific care. This model involves pre-surgical team conferences (now held virtually) that include orthopedic surgeons, neurosurgeons, physiatrists, pain medicine specialists, specialty-trained nurses and physician assistants, hospitalists, psychologists, and anesthesiologists. These conferences, along with the requirement that two attending surgeons are present during complex spine surgeries and the institution of a tailored intraoperative anesthesia protocol, have resulted in a three-fold reduction in major complications in the most complex spinal procedures. Many team members see these conference as the cornerstone of the entire spine care program.
When a patient is referred for spine surgery, the team holds a virtual "patient clearance" conference to evaluate whether he or she will decisively benefit from the procedure or may be as effectively treated without it. (In our prior studies of in-person visits where referred patients were presumed to need lumbar surgery, we found that 58% in fact didn't need it.) For those patients found to be good candidates for surgery, the team conducts a risk stratification to determine which require immediate surgery and begins pre-surgical "optimization," evaluating patients for surgical risk factors such as obesity, diabetes or smoking. In non-urgent cases, the team postpones surgery to allow time to address these.
Our clinicians have embraced the virtual conference format. We have seen increased attendance and continued engaged discussion by our clinical staff. Further, providers who rotate between clinical sites can attend these more easily than the previous physical meetings. As a result, the spine team has now committed to all-virtual patient-clearance conferences as its "new normal" and expects to continue with these virtual conferences even after restrictions on in-person meetings are lifted.
Combining Virtual and Hands-on Care
A recent case illustrates how we are integrating traditional destination care and new virtual care models. A 57-year-old man from Alaska had been experiencing progressive weakness in his arms and legs and for several weeks was unable to get timely outpatient evaluation because of the pandemic. As his symptoms became severe, his local doctor referred him to one of our physicians. The team held a virtual care conference and the same day a consultation with his local doctor, determining that the patient would require complex cervical spine reconstructive surgery. Within a day of those meetings, the patient was on a plane from Alaska to Seattle where he was scheduled to undergo immediate surgery at Virginia Mason. Two weeks later, the patient returned to Alaska and all further communication with the patient and his local doctor has been conducted virtually. Within three months after surgery, the patient had regained full use of his arms and legs and returned to work. We are continuing to follow him through serial virtual visits that include his surgeon, specialized spine physician assistants, rehab physicians and pharmacy.
While the pandemic hasn't substantially interrupted our destination care program for patients needing urgent specialized spinal surgery, it has underscored the less dramatic, but equally important element of the program—it's focus on identifying candidates for surgery who in fact can be effectively managed without it. It's now clear that, going forward, many nonsurgical patients could receive a comprehensive evaluation and treatment without physically traveling to Seattle. These patients can be managed virtually by our non-operative spine specialists and continue their treatment plan without travel-related interruption. With virtual multidisciplinary care we have actually increased access to quality care while, with the decrease in required travel, dramatically reducing the costs of evaluation and treatment.
Acknowledging the terrible human suffering and financial toll of Covid-19, we anticipate some positive lasting changes. Virtual multidisciplinary conferences and telemedicine allow us to provide our model of care to all patients, not just those in COE programs. For patients back home after surgery, telemedicine allows for close and timely follow-up without the burden of travel. Virtual multidisciplinary conferences can improve care by allowing same-day, real-time assessments of the urgency of patients' needs and facilitating immediate triage. In addition, they can serve as a consult resource for patients' local providers. The potential silver lining of the current Covid crisis may be its role as a catalyst to enable a better paradigm of value-based care.