2nd Annual Safety in Spine Surgery Month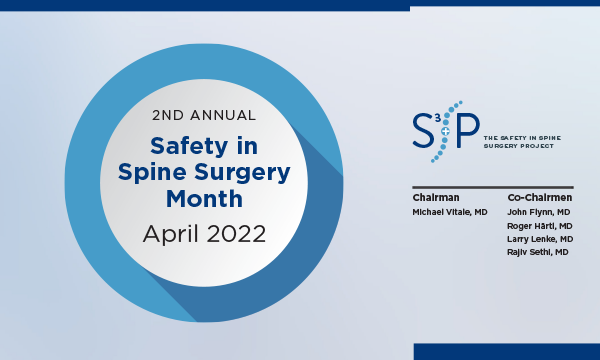 April 1, 2022-
April 30, 2022
APRIL 2022
Chairman: Michael G. Vitale, MD
Co-Chairmen: John Flynn, MD; Roger Härtl, MD; Larry Lenke, MD; Rajiv Sethi, MD
LEARN MORE & GET INVOLVED
Contribute your expertise and learn more to enhance safety in spine surgery!
Submit an Abstract by February
Attend a Live Webinar in April
Follow Us on Social Media and Be a Part of the Conversation
Get Your Company Involved
CALL FOR ABSTRACTS
Best New Methodologies and Techniques to Enhance Safety in Spine Surgery
Deadline: February 18, 2022
Award: 10 Outstanding Papers will receive $1,000 and are invited to present during a live webinar in April
Winners will be notified by March 7, 2022.
These do not need to be formal papers but rather any project that made a difference in spine surgery quality, safety, or value. Submission welcome in any area including neuro safety, infection, AVBT, enabling technology, host optimization, systems, culture, etc.