Less than 2 weeks before the 5th Annual Safety in Spine Surgery Summit on March 13, NewYork-Presbyterian Hospital received its first COVID patient. These were the early days of an unprecedented strain on the city's healthcare system. NYC is still fighting a hard battle every day and continues to rise to the challenge.
Despite taking the necessary step to cancel the live Safety Summit in March, we were still committed to providing top-tier educational resources to the spine surgery community. Our local faculty gathered for discussion and our long-distance faculty recorded their own presentations. In the words of Dr. Flynn & Dr. Vitale, it's more a mission than a course. Thanks to our faculty and supporters, we're now pleased to present these to you as a free Safety Summit Online CME video series.
Surgeons, PAs, and Nurses can earn 4.2 hours of CME/CE credit by viewing this series of lectures and panel discussions. Learn from experts in spine surgery, neuromonitoring, medical device approval, malpractice, and more. Plus, gain invaluable insight from Stephen Harden of LifeWings, a leader in transforming patient safety programs around the country. We've also provided the full text of the outstanding abstracts submitted for this meeting. In addition, you can review the E-Poster presentations, representing some of the best new research in our field. This CME-accredited course is available through February 2021.
We hope you'll take advantage of this year's on-demand learning experience. We look forward to joining together in person again for the 6th Annual Safety Summit in Spring 2021. Until then—stay healthy. Stay safe.
Click here for more information.
ATTENTION:
The NYP Leadership and Dr. Vitale have made the difficult decision to cancel the 5th Annual Safety in Spine Surgery Summit. This is due to both hospital policies as well as following the CDC current guidelines to limit gatherings of 25 or more people.  Many of our faculty are subject to restrictions on travel and business conferences as well due to COVID-19.
We are still committed to communicating the Safety in Spine Surgery Summit message worldwide.  We are working on filming some of the key content to be made available on-line as a CME module. More details will be available soon, but it will likely be later this spring that those videos are available at the Safety in Spine Surgery website.
If you have already registered for the course, please contact us regarding your refund options and cancel any hotel and travel arrangements.
---
5th Annual Safety in Spine Surgery Summit Details:
Chair: Michael G. Vitale, MD, MPH
Co-chairs:
John M. Flynn, MD
Roger Härtl, MD
Rajiv K. Sethi, MD
First do no harm!
Statistics still show unacceptably high numbers of medical and surgical errors. Join us to learn from a diverse faculty about safety and quality advances—plus tips and tools to help us all improve.
Spine surgeons, members of spine surgery teams, OR directors, hospital executives, and more will benefit from this program, and most importantly, so will all of our patients.
Call for Abstracts
Abstract Submission closed on December 13.
Registration
Pre-Course Registration: $95
Main Course Registration:
Surgeons: $575
Residents/Fellows/Allied Health: $375
Healthcare Admin/Corporate: $675
Late Fee (After Feb. 11): $75
The Thursday optional pre-course will be held at:
The Warwick New York Hotel
65 W. 54th St.
New York, NY 10019
Map >
All Friday sessions will be held at:
The Heart Conference Center
173 Fort Washington Avenue
New York, NY 10463
Map >
Shuttle service for participants will run between the Warwick and The Heart Conference Center on Friday morning and evening. Further details will be provided in registration confirmation materials.
Hotel Accommodations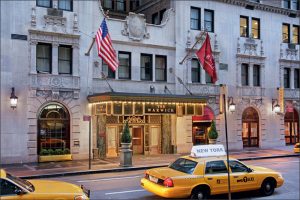 The Warwick New York Hotel
65 W 54th St.
New York, NY 10019
Map >
The deadline for hotel reservations at our group rate has passed. To inquire about available rooms and rates at the Warwick, please contact Francesca Acosta at (212) 314-7752 or facosta@warwickhotels.com.
CME
9.5 hours available
The Safety in Spine Surgery project was thrilled to have hosted the 3rd Annual Safety in Spine Surgery Summit on Friday, April 20, 2018 at NewYork-Presbyterian Hospital. The event brought together a diverse audience of spine surgeons, OR directors and hospital executives from across the nation to network and learn about the numerous safety and quality advances that are being made in the field.
This year's theme was "Toward New Rules of Engagement for an Increasingly Complex Spine World." Dr. Michael Vitale (pictured in photo, right), chaired the event and was joined by the event's co-chair Dr. Lawrence Lenke (pictured in photo, left).