We invite you to join us for the 8th Annual Safety in Spine Surgery Summit. We are returning to an in-person meeting this April in New York for a one-day CME-accredited course. Safety in Spine Surgery Month will also feature video content and promotion to raise awareness and highlight S3P work and resources.
Register early as the limited space will fill very rapidly!
Surgeons: $765
Fellows/Residents/Allied Health: $475
Healthcare administration, corporate personnel: $765
Late Registration Fee (after March 17): $100
Other Details:
The program will commence at 7:30 am and adjourn at 4:00 pm on Saturday, April 15, 2023
Registration includes breakfast, breaks, lunch, and meeting materials
Fully-accredited Livestream registration is available for $195.
Program Highlights:
The Latest Best Practices for Safety in Spine Surgery

Intraoperative Neuro Monitoring
Optimization of the Pediatric Neuromuscular Patient
Optimization of the Adult Deformity Patient

Calling in Reinforcements to Manage "High Risk:" Surgeons and Staff
Risk Stratification and the Development of Predictive Calculators
Cognitive load in the operating room: how it can affect your performance
Expert Panel | Safety Challenges that Changed my Practice
Perspectives Across a Career Focused on Neurological Safety | Lawrence G. Lenke, MD
Keynote | Sharpening Your Scalpel: Optimizing Performance in and Out of the OR | Christopher Ahmad, MD
Invited Faculty:
Michael Vitale, MD MPH
Christopher Ahmad, MD
Todd J. Albert, MD
Brandon Carlson, MD, MPH
Dean Chou, MD
Roger Härtl, MD
Han Jo Kim, MD
Eric O. Klineberg, MD
Lawrence G. Lenke, MD
Firoz Miyanji, MD FRCSC
Themistocles Protopsaltis, MD
Amer F. Samdani, MD
Zeeshan M. Sardar, MD
Rajiv Sethi, MD
Eeric Truumees, MD
Michael S. Virk, MD
Faculty Subject to Change
Hotel

Meeting Hotel: The Warwick Hotel | 65 West 54th Street, 10019 New York, New York
Meeting Location: Roy and Diana Vagelos Education Center (VEC) | Columbia University, 104 Haven Ave, New York, 10032
The deadline for booking at the group rate at the Warwick New York has passed. However, limited rooms may still be available in the block at the rate of $355. To inquire about open rooms, please contact Alison Matta. The hotel still has general availability, and you are also welcome to book at the current nightly rates.
The Warwick Hotel
65 West 54th Street, 10019 New York, New York
Hotel Direct: 1-(212)-247-2700
Email: res.nyfit@warwickhotels.com

Transportation:
A complimentary shuttle will be provided to and from the Warwick on the day of the course, Saturday April 15.
A complimentary shuttle to LGA may be provided departing from the meeting location at 4:30 pm at the end of the meeting on April 15, if there is adequate interest. Please indicate interest in the shuttle on the registration form.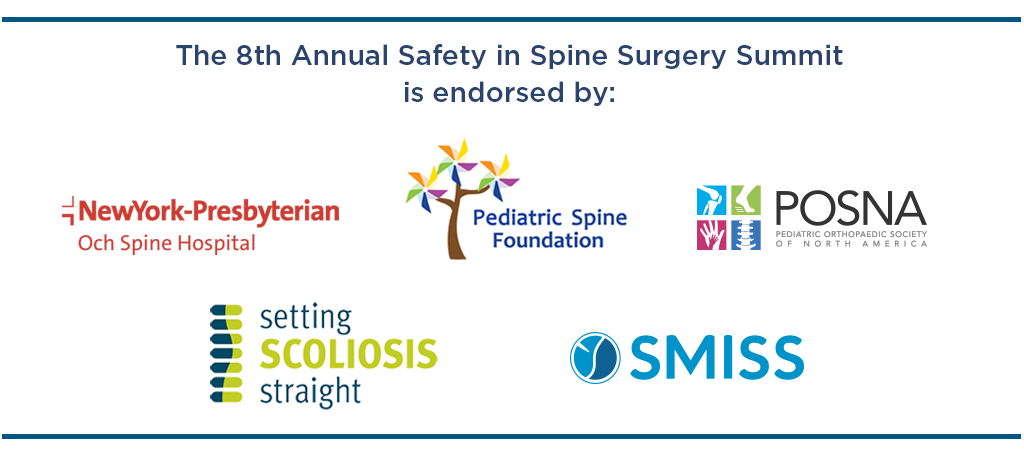 Dr. Michael Vitale on 3rd spine surgery safety summit: "The appetite for information regarding safety in spine surgery is seemingly endless."
Excerpt from Becker's Spine Review | Written by Megan Wood | May 14, 2018
Back in 2012, Michael Vitale, MD, chief of pediatric spine and scoliosis surgery at New York City-based NewYork Presbyterian Hospital/Columbia Orthopedics, realized that there was a great opportunity to improve the safety of spine surgery. To call attention to the topic, he collaborated with 24 national experts to set goals for reducing surgical site infections after spine surgery. This small forum grew into the first Safety in Spine Surgery Summit in 2016; the second annual summit occurred in 2017 with a crowd of 200 attendees.
"The appetite for information regarding safety in spine surgery is seemingly endless," said Dr. Vitale, who chairs the summit. "People are really excited about the responsibility to do better."
Summit Co-Chair Lawrence Lenke, MD, surgeon-in-chief of The Spine Hospital at NewYork-Presbyterian/Allen and chief of spinal deformity and the orthopedic surgery spine division at Columbia University Medical Center, agreed, emphasizing the critical role safety plays in the spine industry: "[Spine safety] is a topic that has to be priority number one for physicians and surgeons. It is a very unique discipline of surgery where complications are real, often far too common and can have devastating adverse effects on outcomes."
The 3rd Annual Safety in Spine Surgery Summit occurred April 20 in New York City. The summit goes beyond the talked-about technical complications, such as neurologic deficit, and hits on the less obvious culprits — system failures, siloed teams and weak cultures. Each year, the summit's theme changes, with this year's titled, "Toward New Rules of Engagement for an Increasingly Complex Spine World."
"Dr. Vitale is saying [patient safety] is a science, as important as doing an operation," said Paul C. McCormick, MD, medical director of the Spine Center at NYP/CUMC and a co-chair of the summit. "How you set up the operations and engage people are all important things that can be managed, assessed, evaluated and made better."
Each summit includes a pre-course, where participants focus on a deliverable. This year, the group finalized a best practice guideline for Halo Gravity Traction, a procedure designed to decrease the curvature degree in children with idiopathic scoliosis. Previous efforts have focused on developing best practices for infection, neurological safety and wrong level spine surgery, and are available at www.safetyinspinesurgery.com.
This year, 20-plus faculty shared lessons from micro to macro, with discussion focused on how to optimize individuals, teams and the healthcare delivery system as a whole.
The Safety in Spine Surgery project was thrilled to have hosted the 3rd Annual Safety in Spine Surgery Summit on Friday, April 20, 2018 at NewYork-Presbyterian Hospital. The event brought together a diverse audience of spine surgeons, OR directors and hospital executives from across the nation to network and learn about the numerous safety and quality advances that are being made in the field.
This year's theme was "Toward New Rules of Engagement for an Increasingly Complex Spine World." Dr. Michael Vitale (pictured in photo, right), chaired the event and was joined by the event's co-chair Dr. Lawrence Lenke (pictured in photo, left).