We invite you to join us for the 8th Annual Safety in Spine Surgery Summit. We are returning to an in-person meeting this April in New York for a one-day CME-accredited course. Safety in Spine Surgery Month will also feature video content and promotion to raise awareness and highlight S3P work and resources.
Register early as the limited space will fill very rapidly!
Surgeons: $765
Fellows/Residents/Allied Health: $475
Healthcare administration, corporate personnel: $765
Late Registration Fee (after March 17): $100
Other Details:
The program will commence at 7:30 am and adjourn at 4:00 pm on Saturday, April 15, 2023
Registration includes breakfast, breaks, lunch, and meeting materials
Fully-accredited Livestream registration is available for $195.
Program Highlights:
The Latest Best Practices for Safety in Spine Surgery

Intraoperative Neuro Monitoring
Optimization of the Pediatric Neuromuscular Patient
Optimization of the Adult Deformity Patient

Calling in Reinforcements to Manage "High Risk:" Surgeons and Staff
Risk Stratification and the Development of Predictive Calculators
Cognitive load in the operating room: how it can affect your performance
Expert Panel | Safety Challenges that Changed my Practice
Perspectives Across a Career Focused on Neurological Safety | Lawrence G. Lenke, MD
Keynote | Sharpening Your Scalpel: Optimizing Performance in and Out of the OR | Christopher Ahmad, MD
Invited Faculty:
Michael Vitale, MD MPH
Christopher Ahmad, MD
Todd J. Albert, MD
Brandon Carlson, MD, MPH
Dean Chou, MD
Roger Härtl, MD
Han Jo Kim, MD
Eric O. Klineberg, MD
Lawrence G. Lenke, MD
Firoz Miyanji, MD FRCSC
Themistocles Protopsaltis, MD
Amer F. Samdani, MD
Zeeshan M. Sardar, MD
Rajiv Sethi, MD
Eeric Truumees, MD
Michael S. Virk, MD
Faculty Subject to Change
Hotel

Meeting Hotel: The Warwick Hotel | 65 West 54th Street, 10019 New York, New York
Meeting Location: Roy and Diana Vagelos Education Center (VEC) | Columbia University, 104 Haven Ave, New York, 10032
The deadline for booking at the group rate at the Warwick New York has passed. However, limited rooms may still be available in the block at the rate of $355. To inquire about open rooms, please contact Alison Matta. The hotel still has general availability, and you are also welcome to book at the current nightly rates.
The Warwick Hotel
65 West 54th Street, 10019 New York, New York
Hotel Direct: 1-(212)-247-2700
Email: res.nyfit@warwickhotels.com

Transportation:
A complimentary shuttle will be provided to and from the Warwick on the day of the course, Saturday April 15.
A complimentary shuttle to LGA may be provided departing from the meeting location at 4:30 pm at the end of the meeting on April 15, if there is adequate interest. Please indicate interest in the shuttle on the registration form.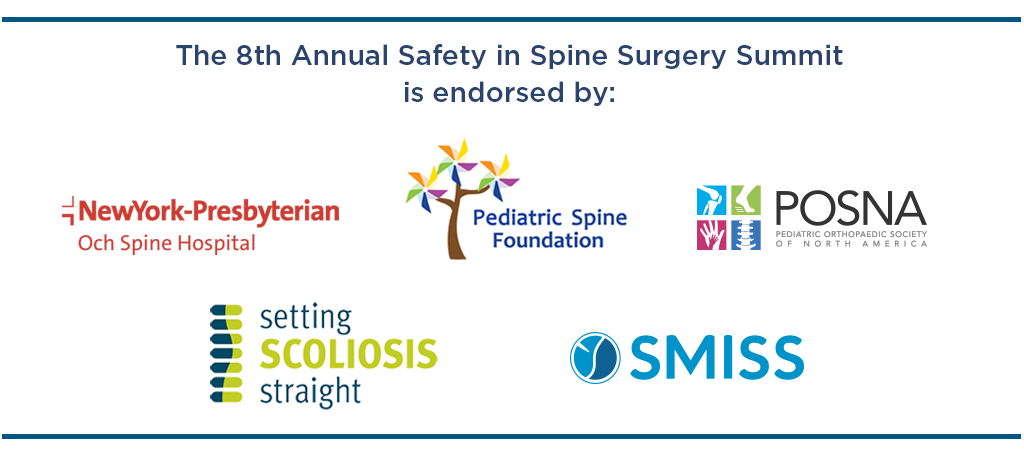 ---
The Safety in Spine Surgery Project (S3P) is pleased to announce the 10 winners of the Safety in Spine Surgery Month Call for Abstracts / Call for Projects.
These award winners will present their work during our two live webinars in April.
April 14 Webinar | Best Practice Guidelines & Checklists to Make Your OR Safer
Artificial Neural Network Model for Prediction of Perioperative Blood Transfusion in Adult Spinal Deformity Surgery
Rafael De la Garza Ramos, MD
Montefiore Medical Center
Formulation of a Web-based Spine Surgery Checklist
Arvind G. Kulkarni, MD
Mumbai Spine Scoliosis & Disc Replacement Centre
Post-operative Steroids in Patients with Severe Neuromuscular Scoliosis Undergoing Posterior Spinal Fusion Reduced Opioid Usage by 70%
Nicholas Fletcher, MD
Children's Healthcare of Atlanta/Emory University
Starting Enhanced Recovery After Surgery (ERAS) from Scratch at an Academic Institution Spine Program
Luke Harris
University of South Alabama
Best Practice Consensus Guidelines for Diagnosing, Treating, and Preventing Surgical Site Infections in High-risk Scoliosis
Paul Sponseller, MD
Johns Hopkins Medicine
April 21 Webinar | Robotics & Navigation in Spine Surgery: Views Across Generations of Spine Surgeons
A Radiographic Comparison of Spinal Navigation and Freehand Techniques in Thoracolumbar Pedicle Screw Insertion
Mohammed Munim
Midwest Orthopaedics at RUSH, Rush University Medical Center
Augmented Reality to Increase Safety in Minimally Invasive Transforaminal Lumbar Interbody Fusion with Total Navigation
Fabian Sommer, MD
Weill Cornell Medicine/New York Presbyterian
Novel 2D Long Film Imaging Utility to Avoid Wrong Level Spinal Surgery
Rajiv Dharnipragada, BA
University of Minnesota
Safety and Feasibility of Augmented Reality-assisted Resection of Benign Intradural Extramedullary Tumors
Fabian Sommer, MD
Weill Cornell Medicine/New York Presbyterian
The Adjunct Use of Descending Neurogenic-evoked Potentials When Transcranial Motor-Evoked Potentials Degrade into Warning Criteria: Minimizing False-Positive Events
Scott J. Luhmann, MD
Washington University
We had some amazing videos sharing the message about safety in spine surgery, with both top-level commentary as well as practical tips. This week our daily safety tip videos were seen by over 11,000 people, and our overall audience grew by 40%. Highlights included:
Dr. Lehman asked us, "Why is it safer to fly in an airplane than to have surgery?," in his video on Safety By the Numbers.
Prof Carl-Eric Aubin shared about the biomechanical considerations in assessing spinal instrumentation for safety.
Vafa Jamali from Zimmer Biomet shared about their support of the Safety month.
Dr. Hey shared about the importance of spine surgery checklists, including a link to the downloadable checklists he's created.
And finally, Dr. Elowitz explained the connections between communication, patient safety, and medical malpractice.
Several of these daily tip videos are taken from longer talks presented at past Safety in Spine Surgery Summits. Did you know we have a library of these talks that you can browse & watch for free? Visit the videos tab on our website, or start here with the 2020 Safety Summit videos.
We also had over 500 people register for the April 15 webinar Checklists & Guidelines Which Make Spine Surgery Safer, which featured 4 of our Award Winners for the Best New Methodologies and Techniques to Enhance Safety in Spine Surgery, as well as a "who's who" of surgeon leaders representing spine safety efforts from leading societies including the SRS, AANS, and POSNA.
We want to thank this week's contributors, as well as this week's partner organizations: NewYork-Presbyterian, Medtronic, Zimmer Biomet, NeuroPoint Alliance, Hey Clinic, and CareGuard.
We want to hear from you, too! Post safety tips or questions on your own social media—tag us, and you might win a $100 gift card! Winners are drawn each week from all social media channels.
View all this week's videos here.
View the videos from presenters at the 4th Annual Safety in Spine Surgery Summit. Learn insights and practical techniques for improvement of safety in spine surgery from experts in the medical field as well as other fields.
The Safety in Spine Surgery project was thrilled to have hosted the 3rd Annual Safety in Spine Surgery Summit on Friday, April 20, 2018 at NewYork-Presbyterian Hospital. The event brought together a diverse audience of spine surgeons, OR directors and hospital executives from across the nation to network and learn about the numerous safety and quality advances that are being made in the field.
This year's theme was "Toward New Rules of Engagement for an Increasingly Complex Spine World." Dr. Michael Vitale (pictured in photo, right), chaired the event and was joined by the event's co-chair Dr. Lawrence Lenke (pictured in photo, left).