5th Annual Safety in Spine Surgery Summit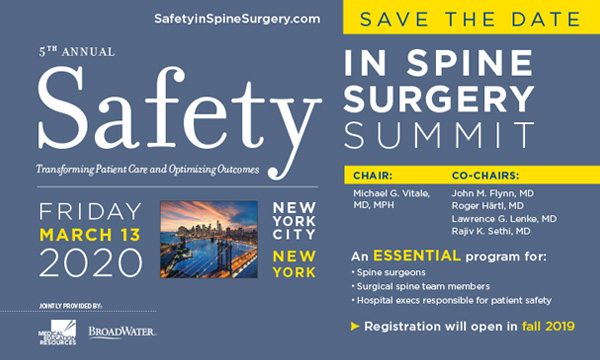 Friday, March 13, 2020
Chair: Michael G. Vitale, MD, MPH
Co-chairs:
John M. Flynn, MD
Roger Härtl, MD
Lawrence G. Lenke, MD
Rajiv K. Sethi, MD
First do no harm!
You're invited to attend The Safety in Spine Surgery Summit to learn about the numerous safety and quality advances being made in the field. During one day of sessions, you'll hear from a diverse faculty about tips and tools that can help us all improve patient care.
Spine surgeons, members of spine surgery teams, OR directors, hospital executives, and more will benefit from this program, and most importantly, so will all of our patients.
Watch for registration details, coming soon!
An ESSENTIAL program for:
Spine surgeons
Surgical spine team members
Hospital execs responsible for patient safety
Call for Abstracts
A select number of abstracts will be presented as Free Papers at the Safety Summit. Submit here by December 13, 2019.